Choose the roofing contractor in Sarasota, FL you can trust for your flat roof replacement – Florida Southern Roofing!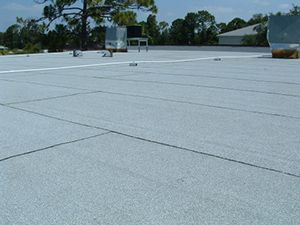 Florida Southern Roofing is proud to work with all different types of roofing systems including shingle, metal, tile, and flat. When it comes to a flat roof replacement, Florida Southern has you covered. As a flat roof roofing contractor in Sarasota, FL, we work with residential and commercial property owners to get the most out of their flat roof replacement.

What are common types of flat roofing systems?

BUR (Built up Roof)
Probably the most common, BUR (Built up roof) is traditional hot tar and gravel. It is built from three or more plies of waterproof material which is alternated with hot tar. This type of flat roof was most commonly made with tar paper but they are now gradually using a more advance material like fiberglass.

Modified Bitumen
Another flat roofing system is Modified Bitumen. Modified Bitumen roofing systems consist of asphalt with modifiers then added to give it durability. When modified they're given a plastic or rubber like consistency. These are either one, two, (most common), or three ply-systems.

TPO (thermoplastic polyolefin)
TPO is a single ply roofing system. The membranes are produced by calendering with lamination, extrusion with lamination, or extrusion-coating techniques. TPO sheets are a blend of polypropylene and ethylene propylene polymers and usually are reinforced with polyester. TPO sheets contain colorant, flame retardants, UV absorbers and other proprietary substances to achieve desired physical properties.
When you need a roof repair or a total flat roof replacement in Sarasota, FL, contact Florida Southern Roofing for the highest quality service. We're here to serve you and would love to give you a free estimate for a roof replacement.

Contact us today for a free estimate! 941-954-8811