A metal roof system is a great investment. Trust your Sarasota roofing contractor, Florida Southern Roofing, today with your metal roof replacement project!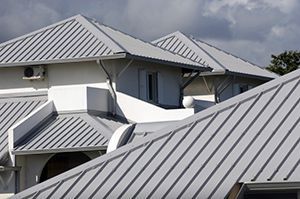 Metal roof replacement is a good choice for both residential and commercial properties. Metal roofing is a great investment. Metal roofing systems can last for 40 years up to the lifetime of the property – when taken care of. In comparison to shingle roof replacement, metal roofing is certainly a longer lasting option. Metal roofs reflect sunlight to reduce cooling costs in the hot Florida summer as well as insulate when it gets cold outside during the winter. They're great for severe weather and stand up to strong storms and torrential rains.

If you are considering a new roofing system you may want to consider a metal roof replacement. Metal roofing installed properly by a reputable roofing contractor are permanent and virtually leak-proof.

Florida Southern Roofing fabricates our own sheetmetal as well as installs quality metal roofing to both our residential and commercial customers in Florida. We're a reputable metal roofing contractor with over 40 years experience in metal roofing systems.There are many benefits to a new metal roof system:

Benefits of a Metal Roof System

Durability

We're not talking about that old aluminum roof on your barn! Today's metal roofing systems are built strong, lightweight, and very durable. A metal roof can last for 40 to 50 years with little to no maintenance. Metal roofs can come with lifetime warranties and when maintained can last a lifetime.

Lower Insurance Rates

Did you know that you can save on insurance rates when switching to a metal roof system? Metal roofing systems can reduce your insurance rates due to their resistance to high winds and fire. When you get a metal roof replacement, you should speak to your homeowner's insurance provider about the advantages of metal roofing and the possible reductions in your homeowner's insurance.

Weather Resistant

Metal roofing systems are highly weather resistant. Metal roofs provide a permanent barrier against severe weather conditions. Living in Florida and the threat of hurricanes, metal roofs are designed to withstand winds up to 200 mph.

Energy Efficiency

Your metal roof will start to pay for itself over the lifetime of the roof due to the great energy efficiency a metal roofing system has. Metal roofs can save on heating costs in the winter due to the the additional insulation that keeps the heat inside. During the hot Florida summer it reflects heat and keeps your home cooler.

A metal roof replacement is a great choice for any homeowner and will likely be the last roofing system your home needs. Trust your reputable Sarasota roofing contractor, Florida Southern Roofing to install and maintain a high quality metal roofing system today. Contact us today to schedule a free estimate for a metal roof replacement. 941-954-8811.