Florida Southern Roofing is your trusted metal roof repair specialist in Sarasota, FL and surrounding areas. We repair and install many types of metal roofing systems.
Roof leaking? Get a metal roof repair estimate today absolutely free – no obligation!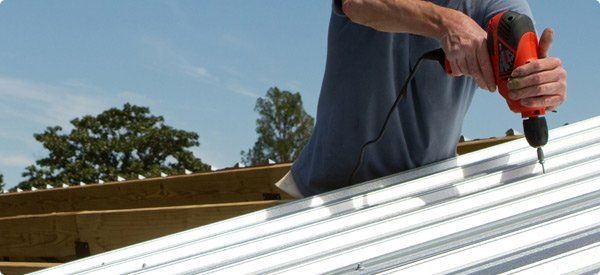 Metal roofing systems are becoming an even more popular choice amongst residential homeowners in Florida as well as commercial properties. Because metal roofs are durable, require minimum maintenance and are attractive, the popularity has increased dramatically the last few years. While metal roofs are built to last, even the toughest metal roofs may need a repair down the line. A properly installed metal roof can save you thousands of dollars over the years as they're energy efficient and eventually pay you back the investment you put into installing a metal roof on your home.
Some common issues with metal that need repaired are: Blow offs, leaks, punctures and tears. Fortunately for homeowners and commercial property owners, there are a number of ways to reduce the chance that metal roofing problems will occur to begin with. First, make sure your roof is installed properly by a licensed professional metal roofing contractor. Once your metal roof is installed, a little bit of maintenance can really go a long way. Have your metal roof inspected and maintained to ensure the longevity of your roof.
If your home is needing a metal roof repair, you've come to the right place with Florida Southern Roofing. We fabricate metal at our shop in Sarasota, and are proud to consider ourselves one of the best metal roofing specialists in Florida. We would be happy to come out to your home or commercial property and give you a free metal roof repair estimate and in the event you choose us as your Sarasota roofing contractor, we stand by our work – your satisfaction is guaranteed!
If you would like to schedule a free roofing estimate with Florida Southern Roofing give us a call at 941-954-8811 and someone will assist you!