You would be surprised to know that most Sarasota roofing contractors do not repair roofs. Florida Southern Roofing will gladly troubleshoot and repair your shingle roof!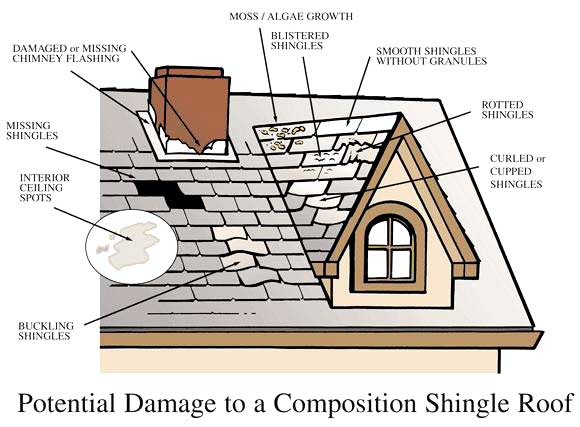 Roof Leaking? Shingles worn, curling, or damaged? Fix your shingle roof today with shingle roof repair in Sarasota, FL.
For most people the roof is an afterthought – that is until it starts to leak. That little stain on the ceiling can turn into a huge shingle roof repair, and subsequently a huge break in your wallet. Florida roofing systems stand up to extreme weather tests through out the year. Sarasota and the rest of Florida can see extreme heat in the summer, torrential rains, hail and damaging winds at any point in the year. Hurricane season brings even more threat to your shingle roof.
That little stain could indicate that there is a larger problem going on and the professionals here at Florida Southern Roofing can diagnose the problem for you with a free shingle roof repair estimate.

When caught early enough, a small stain or leak can be diagnosed and repaired quickly.
If your shingle roof has not met the end of it's lifespan (typically 15 years give or take), a small investment in a quality shingle roof repair can extend the life of the roof by a few more years. This extension can you give you plenty of time to budget a shingle roof replacement.

Florida Southern Roofing is proud to provide shingle roof repair services to our customers in Sarasota, Manatee, Pinellas and Hillsborough counties. Our roof repair projects come backed with a warranty to guarantee the work provided, and in the event something happens we will come back out and fix it at no charge to you. This guarantee can vary in length, and will depend on the type of issue. When your shingle roof is needing repair we will come out to your home or commercial property and evaluate whether it is cost effective to repair versus replace your shingle roof and give you a free no obligation estimate for any repairs.

Call today at 941-954-8811 to see what your options are. We will set you up with a free estimate for your shingle roof.